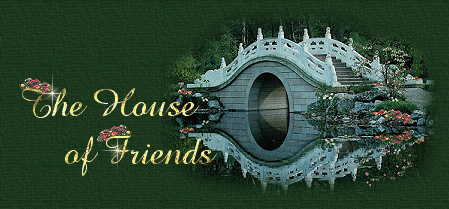 True friendship is like sound health,
the value of it is seldom known until it is lost.
~ C. C. Colton ~

:: Our House of Friends Birthday Listing ::

Here are our Friend's Birthdays! Please remember to stop in from time to time and see whose special day is coming up, so we can all celebrate their very special day together!

If you would like to include your name on our list below, then be sure to send it along to us by using our notification form!

:: Janurary Friends ::

:: February Friends ::

:: March Friends ::

:: April Friends ::

:: May Friends ::

:: June Friends ::

:: July Friends ::

:: August Friends ::

:: September Friends ::

:: October Friends ::

:: November Friends ::

:: December Friends ::

:: Welcome :: Sign/View :: Contact ::

Site contents © Copyright 2002 - to the House of Friends. All rights reserved.
Photo & graphics © Copyright - ~Lady Serenity, and were designed specifically for the House of Friends. Copyrights for sound clips, poetry, and quotes, found within this website belong to the origional owners/creators. The House of Friends takes or makes no claim to their ownership.