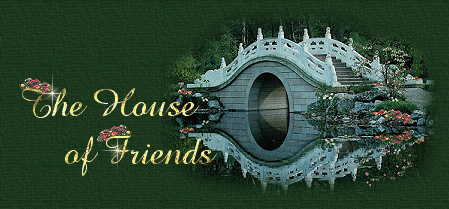 The friendships of the world are of
confederacies in vice,
or leagues of pleasures.
~ Joseph Addison ~


:: Our House of Friends Members ::

:: Welcome :: Sign/View :: Contact. ::

Site contents © Copyright 2002 - to the House of Friends. All rights reserved.
Photo & graphics © Copyright - ~Lady Serenity, and were designed specifically for the House of Friends. Copyrights for sound clips, poetry, and quotes, found within this website belong to the origional owners/creators. The House of Friends takes or makes no claim to their ownership.