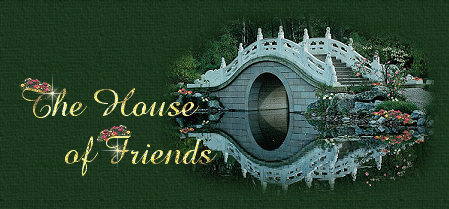 Friendship make prosperity more shining
and lessens adversity by dividing and sharing it.
~ Marcus Tullius Cicero ~
:: Welcome ::
:: Join ::
:: Mission ::
:: Members ::
:: Committees ::
:: Sign/View ::
:: Contact ::
:: Join The House of Friends ::

You must read over our :: mission :: and familiarize yourself with our :: committees :: before you continue in submitting our join form. Any and all information collected by filling out this form is strictly for the use of The House of Friends Group. Your information will NOT be sold to any third parties. It will only be shared with members in The House of Friends.

* Please do not fill out this form with the intention of playing games or to be annoying - that is not very friendly so please think again. Your IP address will be logged and sent to the directors of HOF when you click on the submit button.

:: Join the House of Friends as a Member ::
* denotes - Required Field
(failure to fill in required fields will result in automatic denial)
* Note: Once you have clicked on the submit button to send us your join application to The House of Friends, you will be re-directed to a temporary thank you page, where you will be asked to visit our Webring Join Page to submit your site to our Webring of Friends. Please be sure to click on the link that's provided for you and fill out this form and submit your site to the ring, as it is a requirement by all of our members. Failure to do so will result in an automatic denial of membership.

Site contents © Copyright 2002 - to the House of Friends. All rights reserved.
Photo & graphics © Copyright - ~Lady Serenity, and were designed specifically for the House of Friends. Copyrights for sound clips, poetry, and quotes, found within this website belong to the origional owners/creators. The House of Friends takes or makes no claim to their ownership.