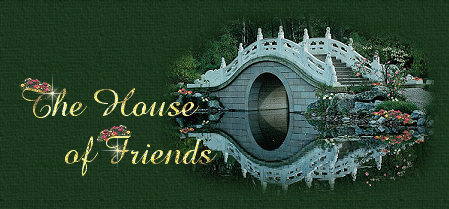 The most valuable things in life
are not measured in monetary terms.
The really important things are not
houses and lands, stocks and bonds,
automobiles and real state, but friendships,
trust, confidence, empathy, mercy, love and faith.
~ Bertrand Russell V. Delong ~
:: Thank You ::

Please continue down this page and signup now to join the official House of Friends Webring to complete your joining process.

Upon joining our group as a friend, you are required to join and display our webring on your website in friendship. Your HOF fragment must be placed on the exact url which you signup with, within 7 days of submitting your website at RingSurf; - otherwise your website will be removed from our queue and you will need to resubmit your website for membership once again.

* The House of Friends also reserves the right to remove a website from the webring immediately without notice, if the Review Board should discover a website under construction as it no longer conforms to our Rule and Regulations.

This is what our webring looks like. Please *save this image* to your hard drive and *DO NOT* change the name of the image. Once you have saved it to your computer, then please be sure to add your webring fragment to your webpage and upload both your page and our webring image to your server. To get your webring fragment emailed to you, please fill out the webring form below and submit it to us with your information.
Thank You!

:: Welcome ::
:: Join ::
:: Mission ::
:: Members ::
:: Committees ::
:: Sign/View ::
:: Contact ::
Site contents © Copyright 2002 - to the House of Friends. All rights reserved.
Photo & graphics © Copyright - ~Lady Serenity, and were designed specifically for the House of Friends. Copyrights for sound clips, poetry, and quotes, found within this website belong to the origional owners/creators. The House of Friends takes or makes no claim to their ownership.