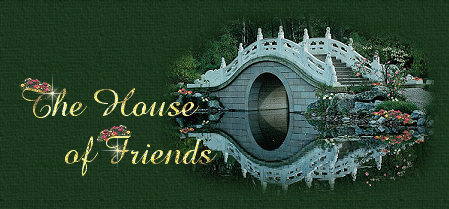 The most valuable things in life
are not measured in monetary terms.
The really important things are not
houses and lands, stocks and bonds,
automobiles and real state, but friendships,
trust, confidence, empathy, mercy, love and faith.
~ Bertrand Russell V. Delong ~

:: The House of Friends Special Webring ::
Below you will find a listing of a few of our House of Friends members who are on webtv or another host that have difficulties with ring fragments. We didn't want them to feel left out, so we've created a special place in our webring just for them!

To view their homes on the web, just click on their name and a new window will open for you.


Welcome to The House of Friends!
It's great to have you here as one of our friends :)
:: Teddybear ::
:: Mimi ::


:: Welcome ::
:: Join ::
:: Mission ::
:: Members ::
:: Committees ::
:: Sign/View ::
:: Contact ::
Site contents © Copyright 2002 - to the House of Friends. All rights reserved.
Photo & graphics © Copyright - ~Lady Serenity, and were designed specifically for the House of Friends. Copyrights for sound clips, poetry, and quotes, found within this website belong to the origional owners/creators. The House of Friends takes or makes no claim to their ownership.