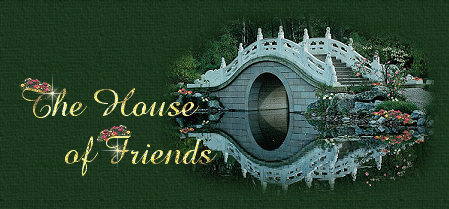 No distance of place or lapse of time
can lessen the friendship of those
who are thoroughly persuaded
of each other's worth.
~ Robert Southey ~
:: Welcome ::
:: Join ::
:: Mission ::
:: Members ::
:: Committees ::
:: Sign/View ::
:: Contact ::
:: Contact Us ::

Please feel free to contact us by using our email form below! Your information will be sent directly to the HOF Founders, and they will be more than happy to assist you.



Site contents © Copyright 2002 - to the House of Friends. All rights reserved.
Photo & graphics © Copyright - ~Lady Serenity, and were designed specifically for the House of Friends. Copyrights for sound clips, poetry, and quotes, found within this website belong to the origional owners/creators. The House of Friends takes or makes no claim to their ownership.