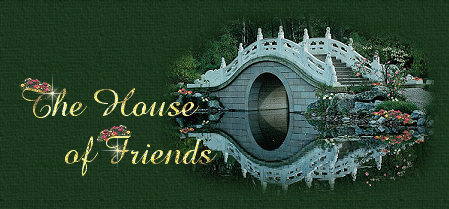 The most valuable things in life
are not measured in monetary terms.
The really important things are not
houses and lands, stocks and bonds,
automobiles and real state, but friendships,
trust, confidence, empathy, mercy, love and faith.
~ Bertrand Russell V. Delong ~
:: Thank You ::

Your email has been sent to The House of Friends and someone will answer you shortly!

:: Welcome ::
:: Join ::
:: Mission ::
:: Members ::
:: Committees ::
:: Sign/View ::
:: Contact ::
Site contents © Copyright 2002 - to the House of Friends. All rights reserved.
Photo & graphics © Copyright - ~Lady Serenity, and were designed specifically for the House of Friends. Copyrights for sound clips, poetry, and quotes, found within this website belong to the origional owners/creators. The House of Friends takes or makes no claim to their ownership.